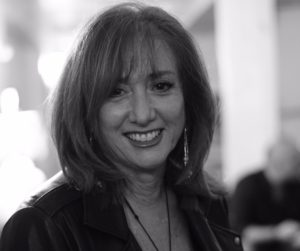 HOPE  JUBER
Hope Juber was born and raised in Los Angeles. Her first professional entertainment experience was playing a recurring role as Greg Brady's girlfriend, Rachel, on The Brady Bunch.
After graduating college with a BA in Theater she joined her father, Sherwood Schwartz (famed creator of Gilligan's Island and The Brady Bunch), as a writer. She quickly became a story editor at Paramount TV working on situation comedies. During a brief hiatus she went to New York where she met and subsequently married Paul McCartney & Wings' guitarist Laurence Juber.
She continued writing, penning episodes for The New Munsters, the animated series Little Shop and material for Elvira, Mistress of the Dark. Hope soon wanted to combine her comedy writing with Laurence's rock and roll music, and one day while caring for the first of their two babies, she became inspired. She created a comedy rock and roll band called The Housewives which played at rock and comedy clubs around LA, as well as regular appearances on national TV.
Hope then focused on writing musicals, penning four for The Storybook Theater of Los Angeles. With Laurence, she then wrote the score to Gilligan's Island:The Musical.
She has produced many of Laurence's solo albums, including the ever-popular LJ Plays The Beatles.
She co-wrote the third Brady Bunch movie The Brady Bunch in The White House with her brother Lloyd, and went on to an Emmy nomination for the TV Land special Still Brady After All These Years.
Hope's musical It's The Housewives! enjoyed a very successful L.A.run, as did A Very Brady Musical, for which she co-wrote both book and score and which earned her the "Best Author" ADA award.
Hope's innovative play Without Annette had extended runs at The Whitefire Theatre and Theatre West and is published by Playscripts.
In 2017, she reinvented The Housewives as The Nasty Housewives for RESisters, an album of protest songs inspired by the madness of the current political scene. It also features Marcella Detroit, singer and, co-writer of Eric Clapton's mega-hit 'Lay Down Sally.'
"One of the most important albums of the year!" – Spill Magazine
Family:
Daughter Ilsey is a songwriter with credits including Beyoncé, Miley Cyrus, Sean Mendez, Major Lazer, Linkin' Park and Kelly Clarkson.
Daughter Nico's musical Millenials Are Killing Musicals is opening off-Broadway in the spring of 2023 She's also the founder of a nonprofit Thrive Survive to provide resources to young adult cancer survivors: http://www.thrivesurvive.org