Meeting George Harrison
I had always wanted to meet George Harrison.  Throughout my entire adult life, if you asked me who was the one person I would most want to meet it would have to be George Harrison.  So, I was thrilled when Laurence was asked to do a session for George on the soundtrack to the movie "Shanghai Surprise."  I was also nine months pregnant with my second child.  Undaunted, I was clearly not going to miss my big opportunity to go to the recording studio even if I was as big as a Volkswagon.

The night before the session I was going through my ever narrowing options of what I could comfortably wear and look reasonably ok in, when the unthinkable happened.  I went into labor.   I couldn't believe it. I was not due for another 3 days, and if I had to give birth, then I wouldn't get to go to the studio.  What a dilemma.  I ignored the labor for a while, hoping it was a false alarm.  When I had a contraction and Laurence asked if I was ok, I tried pretending that it was not that bad, but babies have a way of setting their own timetables and finally I had to admit that I was going into hard labor and we needed to get to the hospital. Laurence grabbed all the things you are supposed to take, (Including his guitar) and we headed off to give birth.  It was a fairly easy labor this time (Not like the dramatic epic of Nico's birth) and Laurence played guitar for me through most of the process.  This was wonderful, up to a point, but when the nurses all gathered in our room to hear him play I had to  get their attention back to the fact that I was the one in labor.

I was thrilled, of course when I delivered Ilsey, a beautiful, healthy 7 pound girl.  She was born at 7 in the morning and after we settled down Laurence needed to leave to get to the session by the late morning.  I was sorry  he had to leave so soon, and I knew he was going to work with George, so I was pretty jealous, too.  Oh well.

I called my parents and some other people to let them know the good news, a few hours went by as I nursed the baby and napped a bit and then the telephone rang.  I said "Hello," and there was an unmistakable Liverpudlian accent on the other end of the line.  It was George Harrison.  He congratulated me on the birth of our daughter and invited me to come down to the studio as soon as I was up for it, baby and all.

So when Ilsey was all of 2 days old, the very first outing she ever had was to go to a recording studio to meet George Harrison.  He was so incredibly warm.  He went to his car and brought out two presents. A teddy bear for Ilsey and a pull toy for Nico.  He held the baby and actually danced around the studio with her in his arms. He kissed her head and said something in Sanskrit. When we asked him what he said, her replied "I was so taken with this young life that I gave her the gift of music". A great gift indeed as now Ilsey is a top songwriter!

We spent a while listening to the music and talking to George.  I was surprised at how forthcoming and talkative he was, for the one with the reputation as 'The Quiet One.' We didn't have the opportunity to see him again after that, but I will always cherish that particular memory.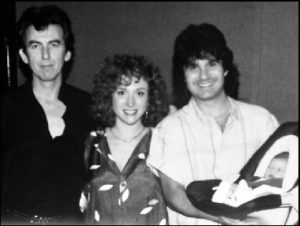 George Harrison, Hope Juber, and Laurence Juber (holding Baby Ilsey)
April 19, 1986